Deeplocal's Virtual Office
is a digital and 
social 
activation designed to visualize company achievements, activity and culture. 
Deeplocal is a creative technology and experience design agency dedicated to inventing interactive experiences that tell human stories. Due to COVID-19, its internship program transitioned into a fully remote experience. While still craving a rich, immersive and hands on internship experience, I initiated, organized and led this internal project with my fellow interns. This project was completed by Deeplocal's summer 2020 interns, Roshan Benefo, Elena Bremner and Tommy O'Halleran. Visit Deeplocal's Virtual Office here
1. THE CREATIVE BREIF
Deeplocal's office is highly significant to its employees and work.
The large shop space, and the industrial history of the building speak to the company's competencies, values, and community. But due to COVID-19, employees have been separated from the office, and will likely remain distant for a few more months. In a matter of weeks, people had to think about new and creative ways to continue workplace engagement and maintain a sense of community that is entirely online and physically distant.
Deeplocal has "asked" its interns to
reignite a sense of community
and anchor its employees to the rich history of the Deeplocal building without having to be physically present.

We developed three design lenses to approach this ask (connected by data, long term engagement, and celebrate Deeplocal), and in the end we created a data driven world connected to Slack APIs for employees to stay connected and for the general facing public to explore and learn about Deeplocal life. The digital and responsive replica of the Deeplocal building aims to keep the office spirit alive by building a sense of community that has been lost during COVID.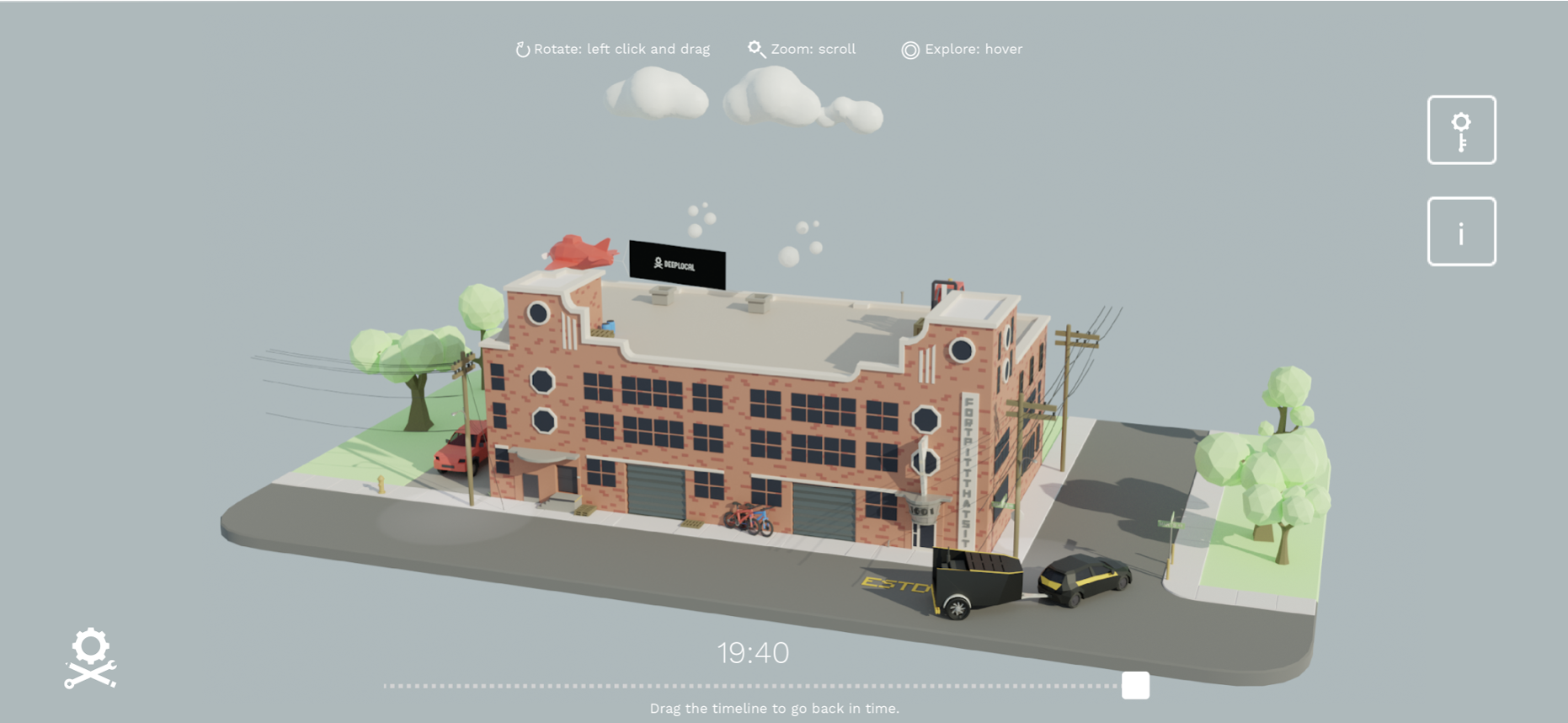 Visualize office activity via whimsical animations. 
Company activity is represented through windows that are connected to Slack API. The front windows turn on and off throughout the day to display the percentage of employees active on slack.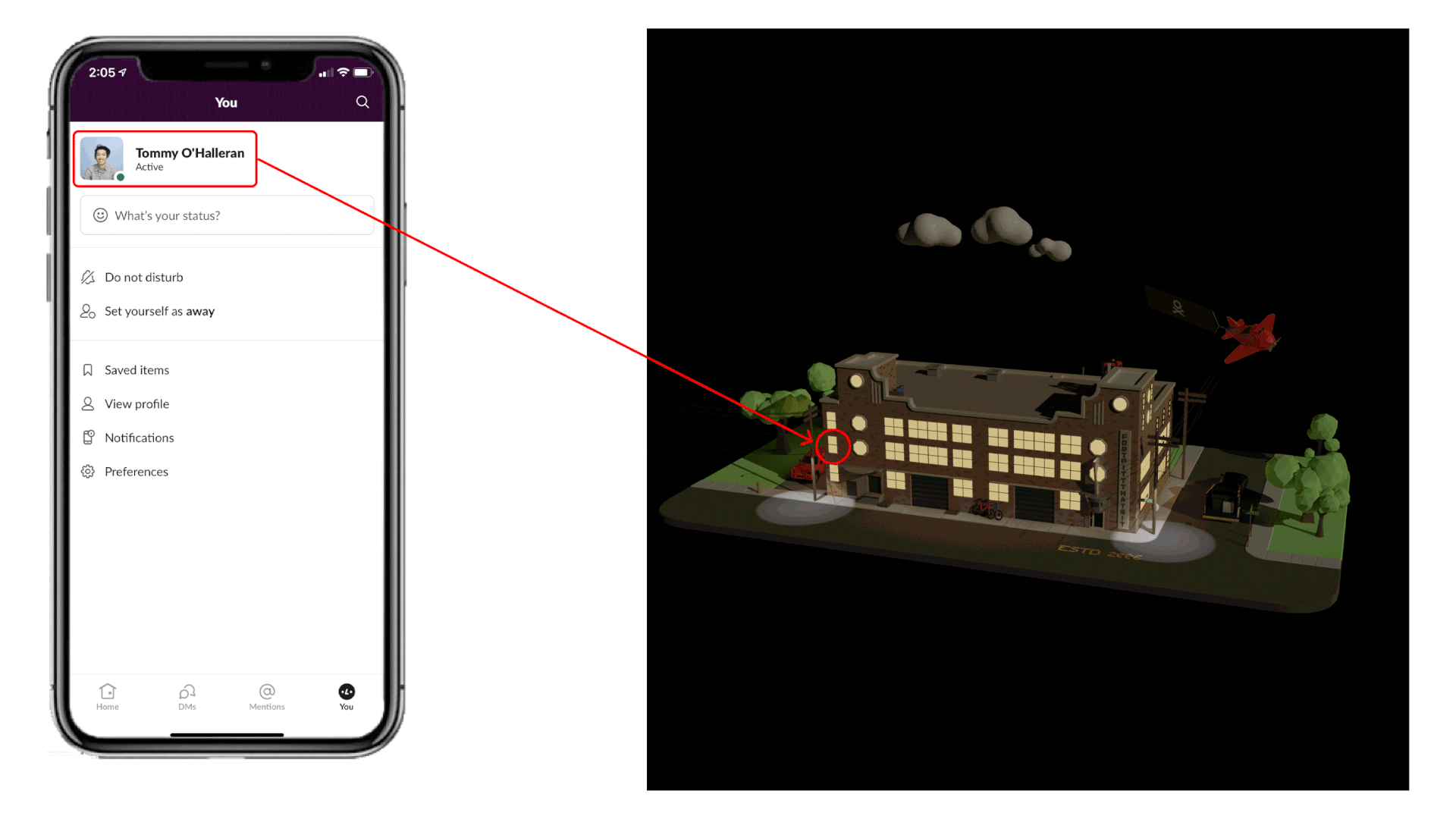 Watch High Fives Fly High:
15Five is a performance management system used by Deeplocal. When employees receive "high fives," their names are projected on a banner to celebrate their achievements and hard work for the week.

Easter Eggs:
 People can explore the world, through clicks, scrolls and drags. Mouse hovers over certain objects trigger animations and callouts that share a bit about Deeplocal culture.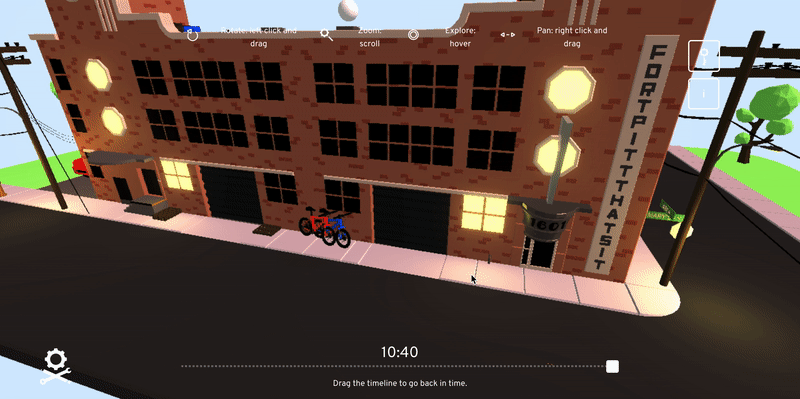 Recorded History:
In case you miss any new achievements throughout the day, people can drag the timeline bar to view that day's activity.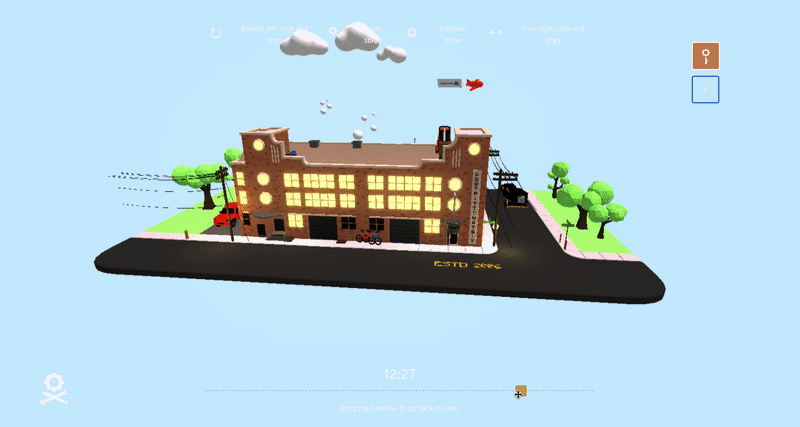 Login and More Info:
With data collection comes privacy. Any feature polling private company information will only be accessible to Deeplocal employees through their gmail login. Guests can also click on an Info button for a background about the project.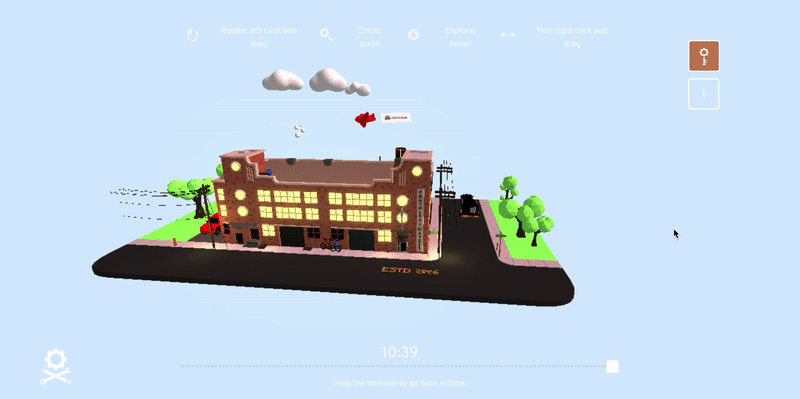 High Level Workflow
With two design interns and one engineering intern, we allocated tasks accordingly. In design, 3D assets that were modeling, textured and animated with 3DS Max and Blender and were exported as GLB files. GLB is a binary format representation of 3D models, making it easier to implement in javascript. In engineering, we 
polled the company Slack API to access online activity through messages and checking user status to drive the WebGL render in Three.js.


This was a transformative project for me. Being one of the first times organizing and leading a project, I took on the role of being a sort of project manager. I managed my peers and organized tasks, touched base with Deeplocal employees to receive periodic feedback, and developed a timeline in order to keep the project moving forward. In the end we delivered a pitch deck, in which I can confidently say was a success, and in the short timeframe, my leadership and communication skills grew immensely as a result.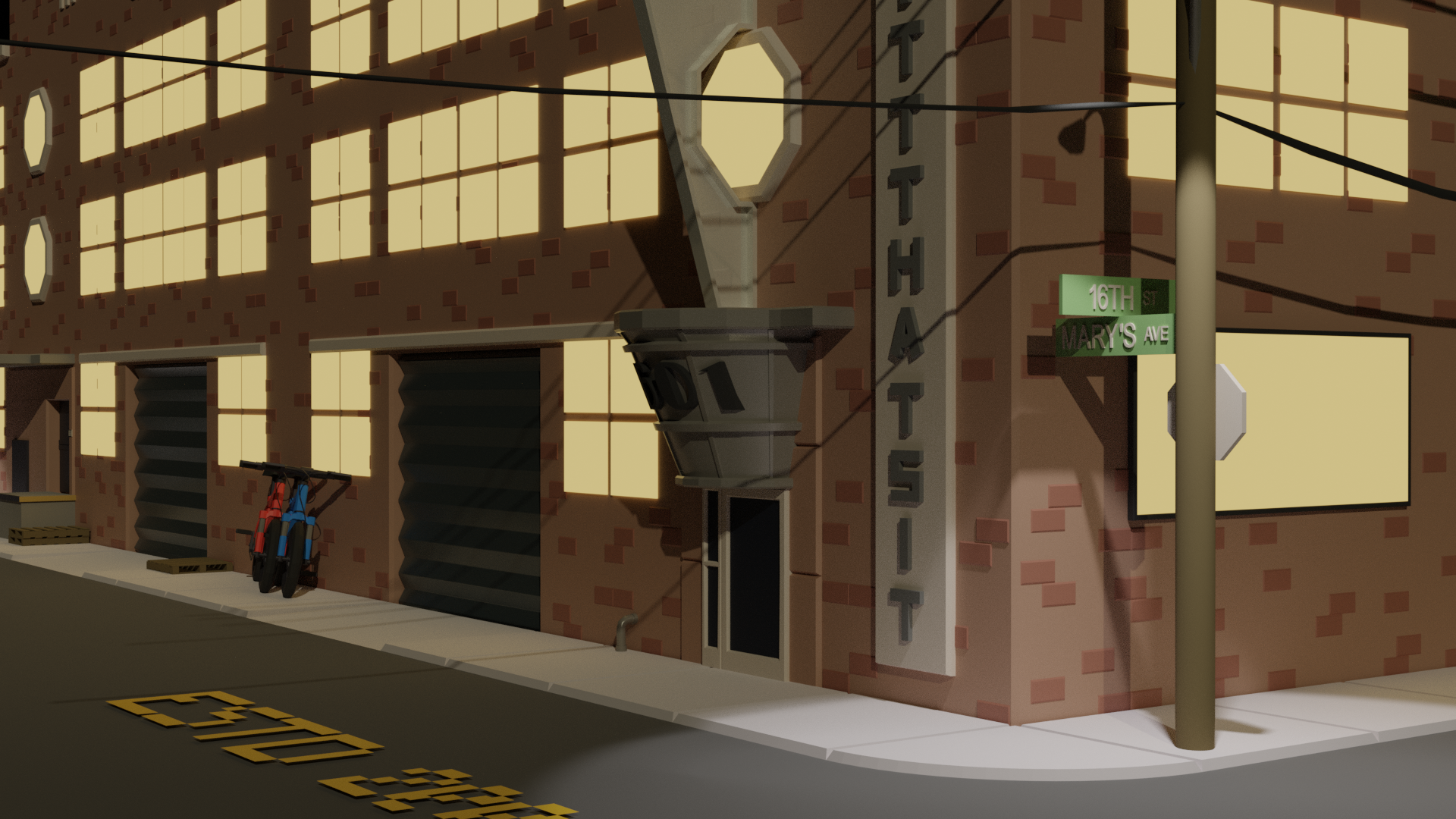 We also thought of many opportunities to further develop this project. Some include: 
+ Thinking about how will this live in a physical space when we return to the office?:
            + Projected as a live bulletin board?
            + Mini diorama of the DL building that coincides with the virtual office?
+ Mobile compatibility
+ More hidden easter eggs + opportunities to explore:
+ More inputs + animations:
            + 15Five ratings > affect the color and brightness of your window
            + New project comes in > truck rolls up to Deeplocal garage
            + Company wide message > a flag displays message on top of building